Frosted Film at 1.20 per sq.ft for easy D.I.Y. ASRO Frosted film is available in both full roll and small quantity cut lengths at a wholesale DIY price to make your purchase simple. The standard width of a film will vary according to the design shown below. Some special designs are available at different unit prices. Stocks are subject to availability. Kindly check stock before specifying. We are specialized in office installation, customized size, and design, office Logo cutting, Printing Logo, etc.,
Click for Office Frosted Film Designs
On-Demand & Static Frosted Films (with MOQ & Leadtime)
---
Instructions for Frosted Film D.I.Y. Installations
Installation service is available upon request and at additional cost.
1. Measure the glass panel and cut the frosted film accordingly. Cut with extra 1 inch per side, if you want to trim after stick to the glass panels or cut exactly.
2. Add a little amount of mild soap solution preferably dish-washing clear liquid or any baby shower liquids (about 10%) into water spray bottle.
3. Clean your glass panels with the above solution spray and squeeze.
4. Spray more water on the glass panel.
5. Peel-off extra layer on the film like a sticker and then stick the Frosted film on the glass panel. For most of the thin films, you need to use the cellophane tape at the cornet on both sides to make it easy to peel-off.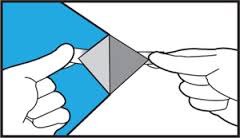 6. Spray lot of water on the glue side of the film as well on the glass panels and make the film is slide easily on the glass. Also spray water on top of film facing you. This is to make smooth when you squeeze the film to avoid any damages and scratches.
7. Use the squeeze to remove water & bubble trapped inside the film. Most of the bubbles will disappear in 1 or 2 weeks time.
YouTube video link for reference http://youtu.be/SrLQpSLIBbU
Interior Film
Wood Grain Film at $1.20 / sq ft ($15 / m) for easy D.I.Y. Interior film is an innovative and cost-effective way to decorate your walls, TV feature walls, cabinets, wardrobes, glass tables, glass wardrobes, hide mirrors, glass panels, windows, even fridge, washing machines, car interiors and many more… It can be D.I.Y, and the installation is easier than other films. The wood grain design gives an original wooden effect after installation.